Contract Management
nikoways uses blockchain to digitally sign contracts and store encrypted contracts to make them more secure than existing solution! nikoways uses Ethereum Blockchain based smart contracts that allow users to rapidly negotiate and create contracts.
Smart Contracts are at the heart of nikoways and they provide these benefits to the users:
Eliminates dependence on intermediaries. There is no need to seek help of a lawyer for each contract, making the process faster and simpler.
Guarantees safety and confidentiality as all the hash of all the contracts is stored in blockchain. No one can temper with the contract once this is done.
nikoways Blockchain Contract Management Benefits

Better than existing solutions (PDF, Docusign, etc)
Data or sequence of transactions can't be mutated or manipulated
Increased security as the contract validation information is stored separately from the contract (data)
Uses Digital signatures that are generated using cryptography and everyone can sign in parallel
No third party ownership, security, non-repudiation, trust, and integrity

Self-Executing Smart Contracts
Smart contracts eliminate the need of lawyers and third parties to negotiate and write contracts
Blockchain contracts are smart contracts that use a software to monitor terms and trigger actions
Self-executing smart contracts automatically track obligations and eliminate manual review
Payments or dispute resolution can automatically happen based on the contract rules

Security, Cost, and Transparency
Eliminates third-party fees for creating contracts and provides free lifetime data retrieval
Cost to store data in blockchain is very less compared to buying expensive software to track the data
Better transparency as anyone can view transactions on blockchain
Blockchain provides proof-of-existence so data and transaction records can't be altered

Integrity, Authentication, and Non-Repudiation
Digital signature of the contract is created with private key of the authenticated user and the file hash
Digital signature is stored in a neutral public environment, blockchain
Provides full privacy as the contract is never stored in blockchain
Anyone with the contract can check its integrity by verifying the digital signature
nikoways Contract Signing using Blockchain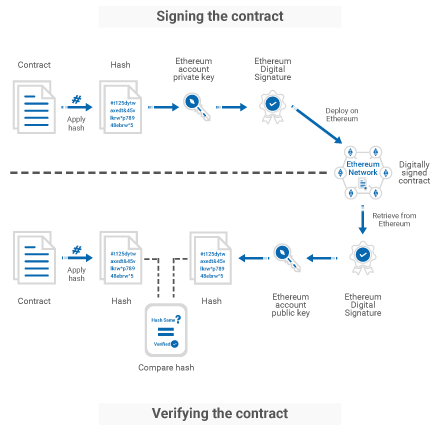 nikoways Contract Management using Blockchain